From www.ved.sk
April 30th is the eve of the festival of St. Valburga, called
Walpurgisnacht or Hexennacht
by Germans.
Hexennacht
means "Witches' Night". As noted by
Tim S. Brannan
and
Johann Wolfgang von Goethe
on this night, evil witches are supposed to convene their Sabbath on the summit of the Brocken in Thuringia.
The Church was eager to establish a feast day for St. Valburga (Walpurgis) close to the time of this opposing holiday, on May 1st, because the saint was a staunch missionary among the still-pagan Germans of the 8th Century and because of her reputed efficacy in
battling witchcraft
.
In the Czech Republic, the sometimes-celebrated holiday is called
Čarodějnice ("Witches") or
Pálení čarodějnic ("Burning of Witches"). Crude effigies of witches are burned in large bonfires on hilltops. Supposedly the bonfires ward off witches and associated evil spirits. Of course, up until the present day many young people celebrate this holiday just as an excuse to meet in natural areas, drink, and party.
It's easy to see a pagan ritual with a thin veneer of Christianity covering it. The "witch" effigy is actually Morana the ancient Slavic goddess of winter and death. Burning her effigy is symbolic triumph of Spring over Winter and Life over Death, a drama which Czechs have been enacting seasonally since long before conversion to Christianity.
During the Nazi occupation in World War II, and under the Communist regime of 1948-1989,
Čarodějnice activities were suppressed. My first host family in Prague described how unstructured, youth-driven sports like skateboarding were anathema to the old regime. Imagine how incensed the authorities would be toward these rowdy ancient traditions that involve nature, huge bonfires, effigies, and Christian and pagan elements.
Often the hilltop sites of today's bonfire celebrations, such as
Petřín hill, were formerly "pagan paradises" where the ancient Czechs kindled sacrificial fires amidst clearings in the groves. Centuries after Bohemia was converted, these fires were supposed to spontaneously ignite at random times. People peered into the flames and saw the faces of their pre-Christian ancestors, or pagan deities dressed in ancient clothing, or devils. Old people felt their rheumatism improved if they warmed their bones around the mysterious fires.
There's a better picture by Neprakta of the devilish faces in the fires, but I'm too lazy to scan it
I don't know if you are inspired to create gaming content out of all of the preceeding, but I hope you'll be inspired to get life-content out of the following: May 1st, besides the Labor Day meaning emphasized from 1948-1989, can be a powerfully pagan-ish (or just fun) holiday for Czechs. If they are willing and able, they smooch under blossoming cherry trees. Like getting smacked in the butt with a pomlazka switch, getting smooched under the flowering trees is supposed to "keep women from drying up" and "keep them feeling young and beautiful" in the coming year.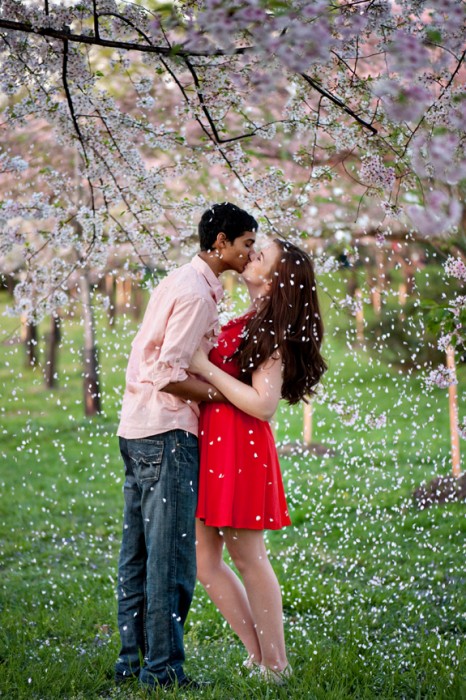 From charlottestips.blog.cz
The original
Karel Hynek Mácha
wrote the most famous Czech romantic lyric poem starting with "It was late in the evening on the First of May/An evening in May - the time of love..."